Earlier this week, Dupo 196 hosted a Sphero workshop to showcase robots! Participants came from all over the Midwest! 😮👏👍🤖 @SpheroEdu #Sphero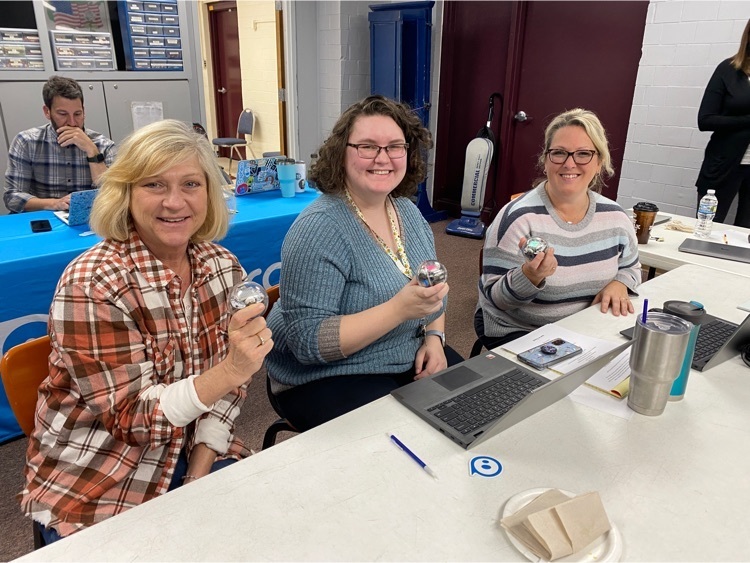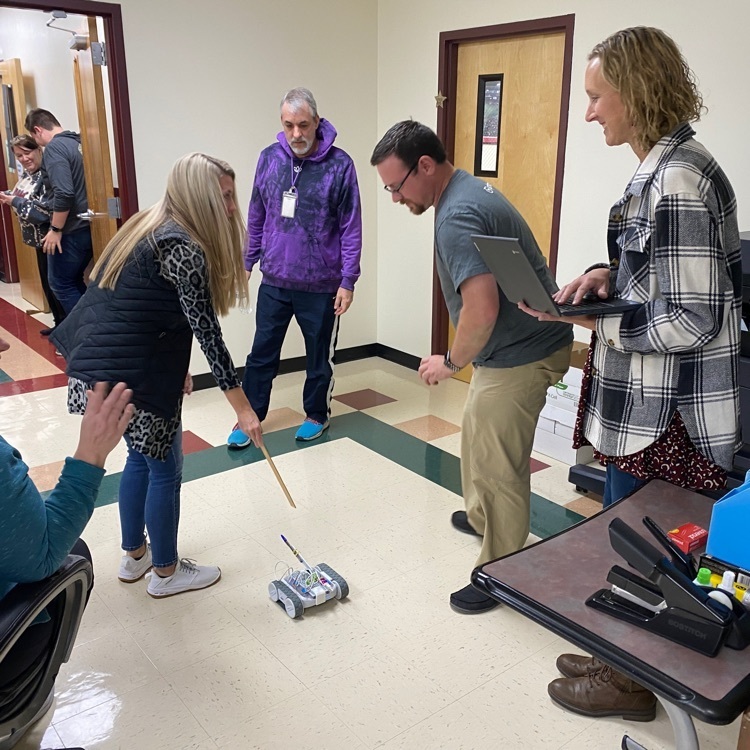 At our November 2022 School Board Meeting, we highlighted our most recent athletic accomplishments! #Congratulations! 🏈🏃‍♀️🏃🏃‍♂️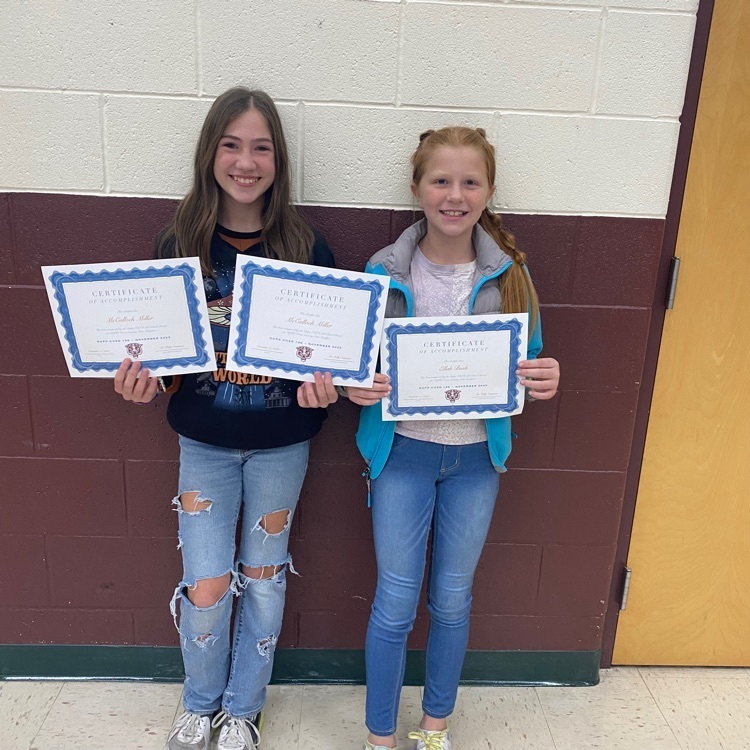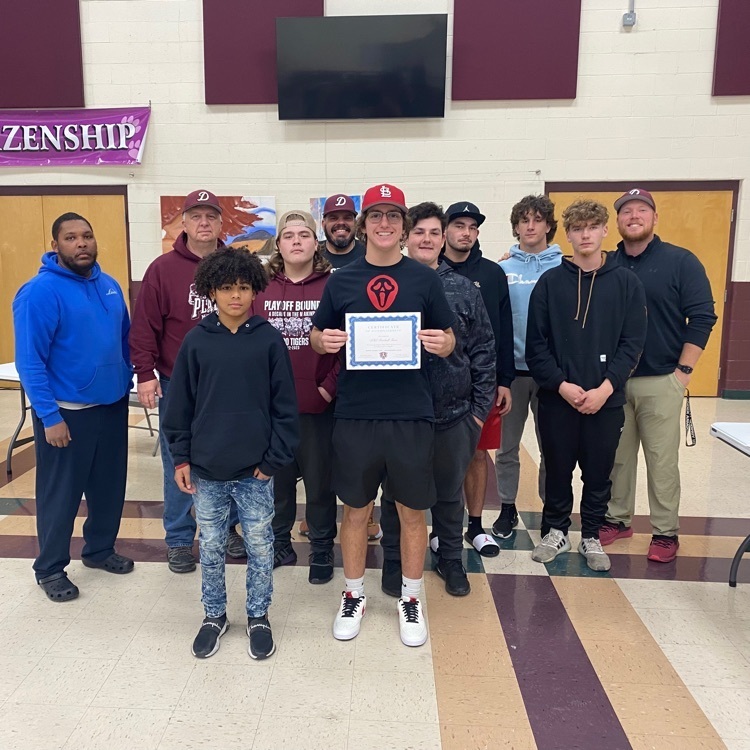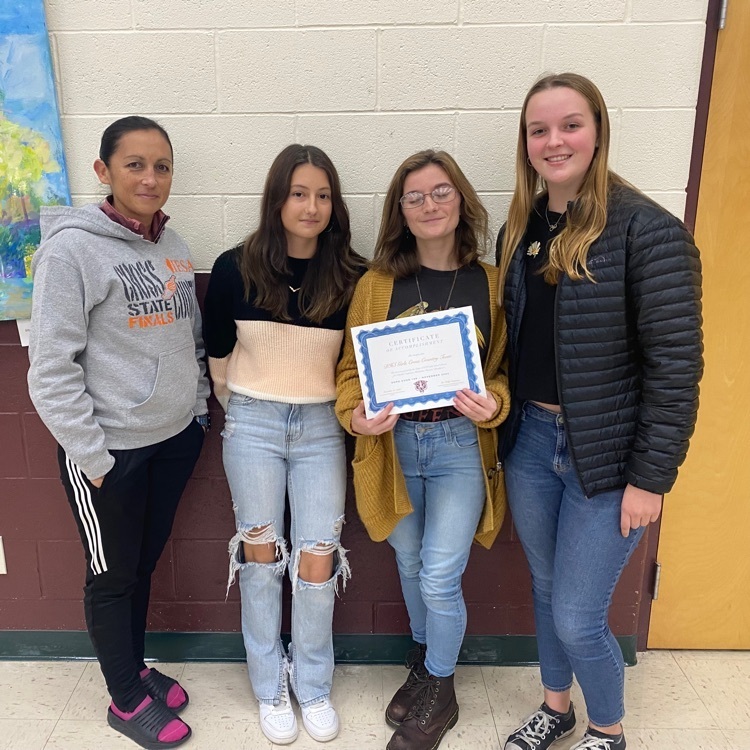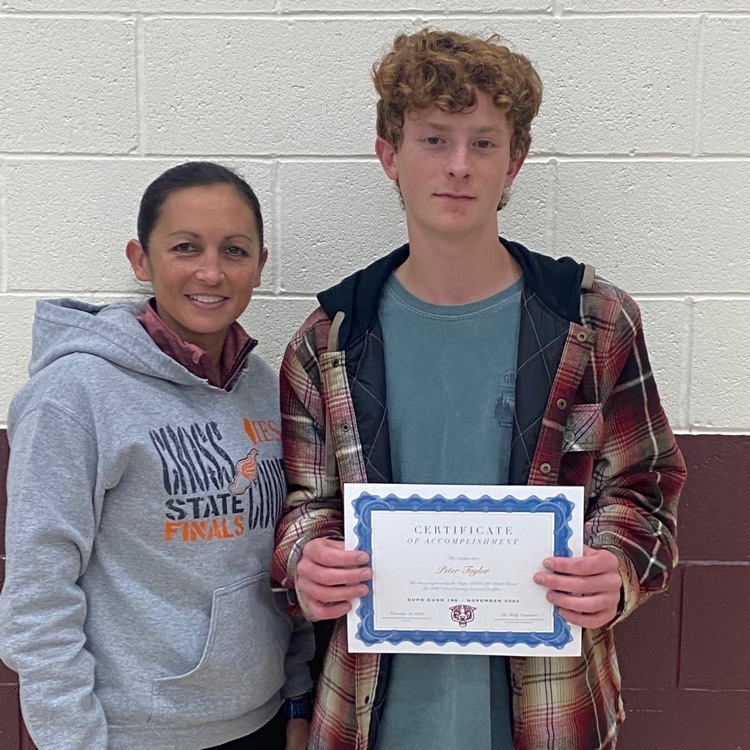 #Congratulations to our November 2022 Students of the Month! #Citizenship 😀👏👍

It's School Board Member Day! #ThankABoardMember

​Please come to hear our Bluffview & Jr./Sr. High Choir on December 6th at 6pm, followed by a cookies and milk reception with Mrs. Claus! (See the attached flier.)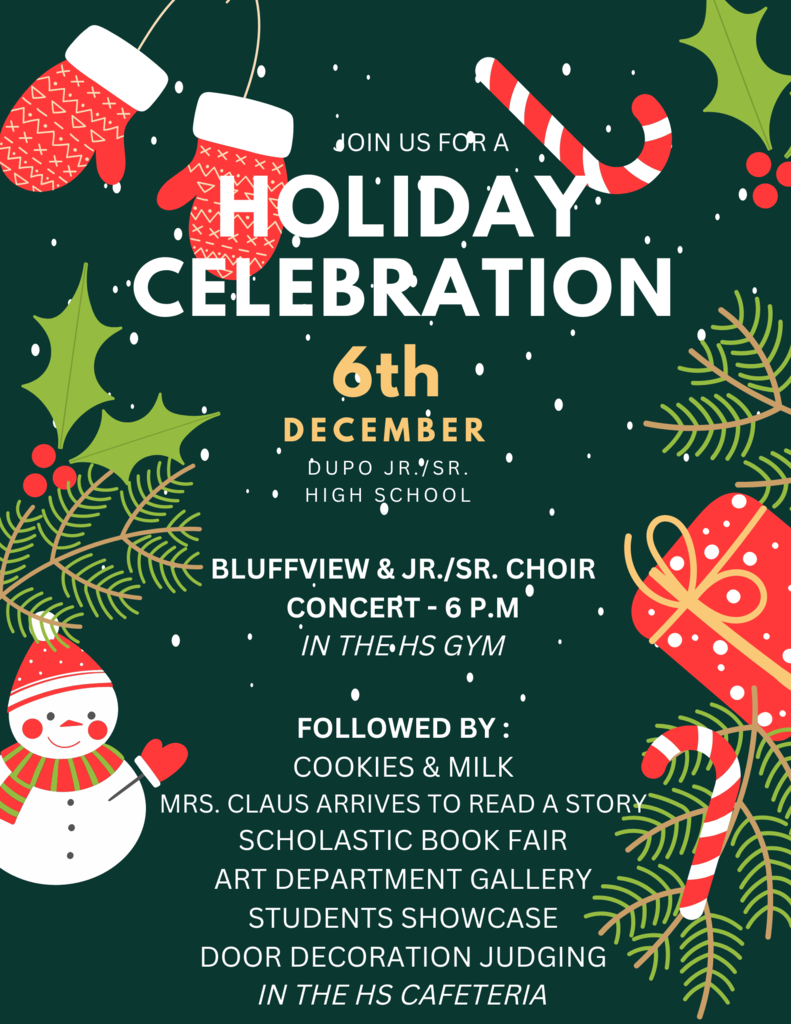 The Youth Advisory Council met with state senator Terri Bryant. #democracy 🇺🇸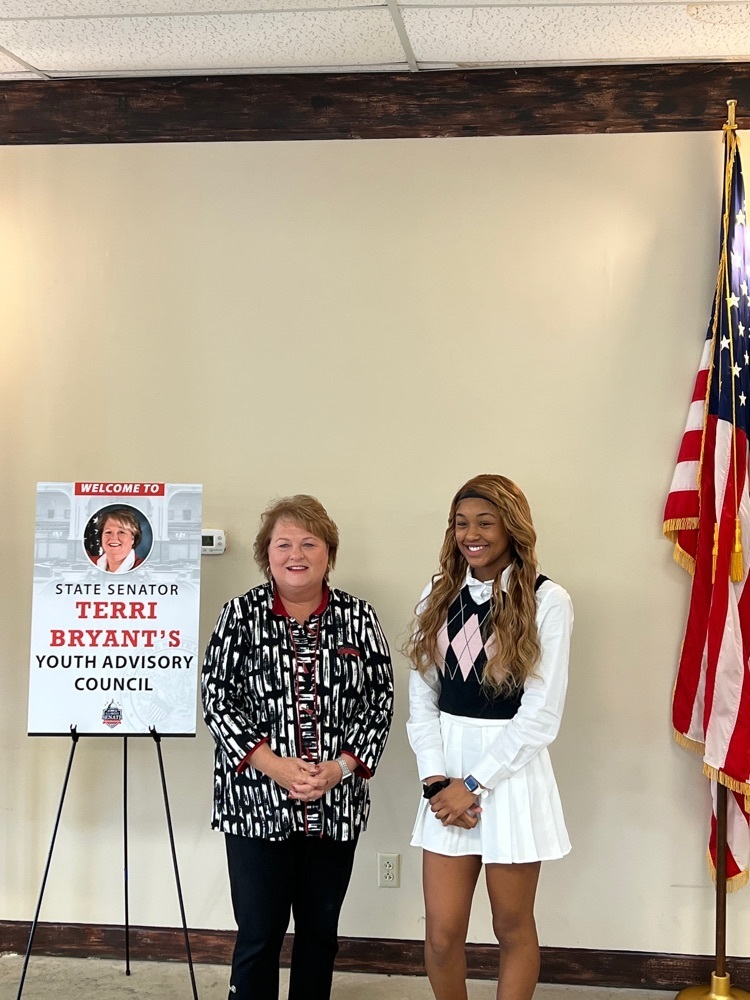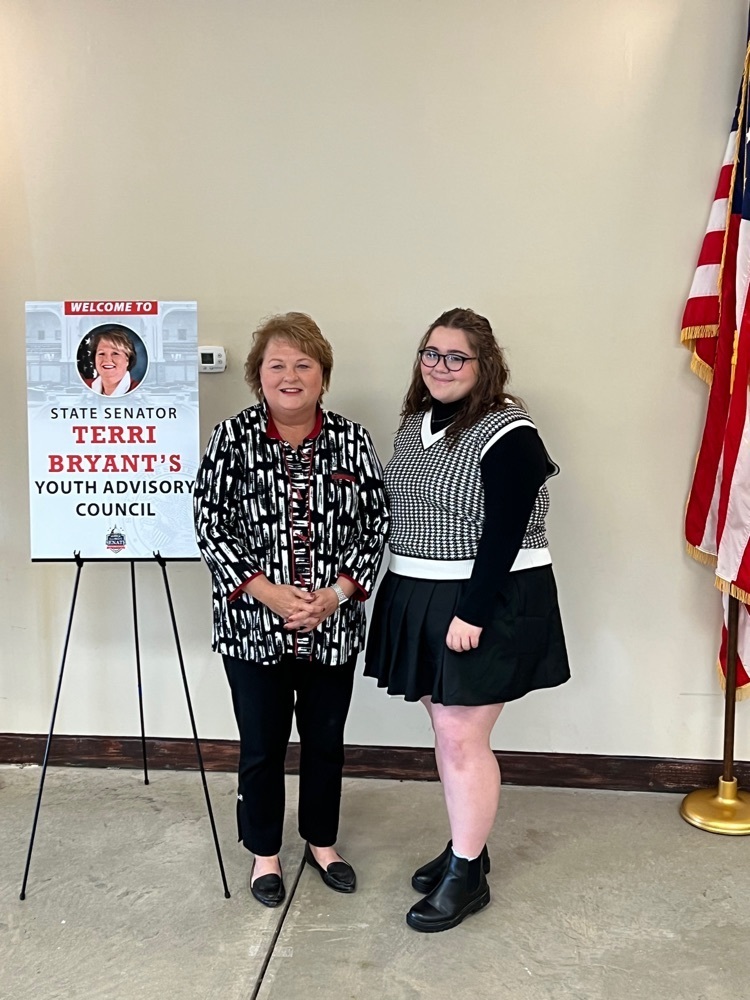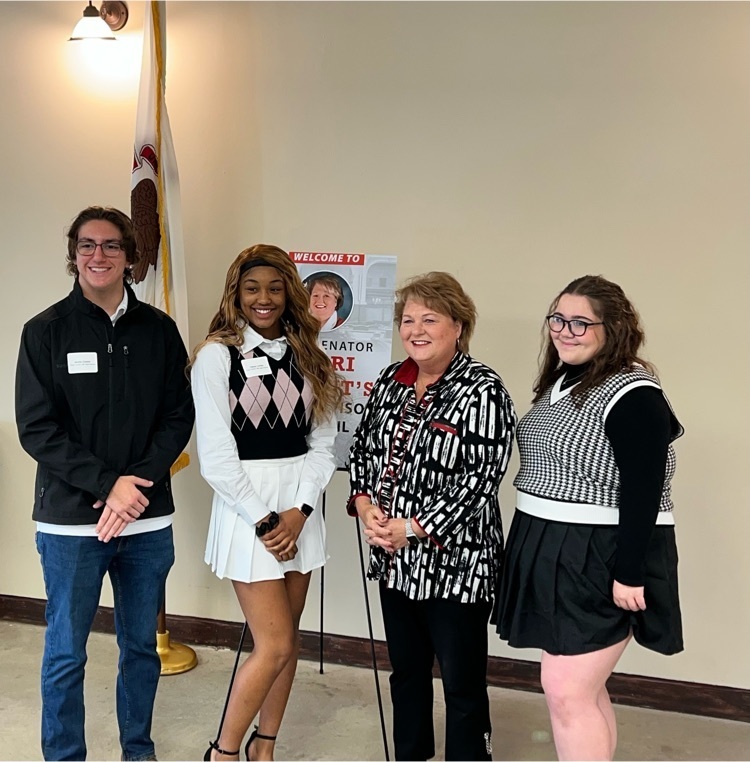 Last night at our school board meeting, the administrative team was recognized for their dedication to the District and the community. #thankyou 👏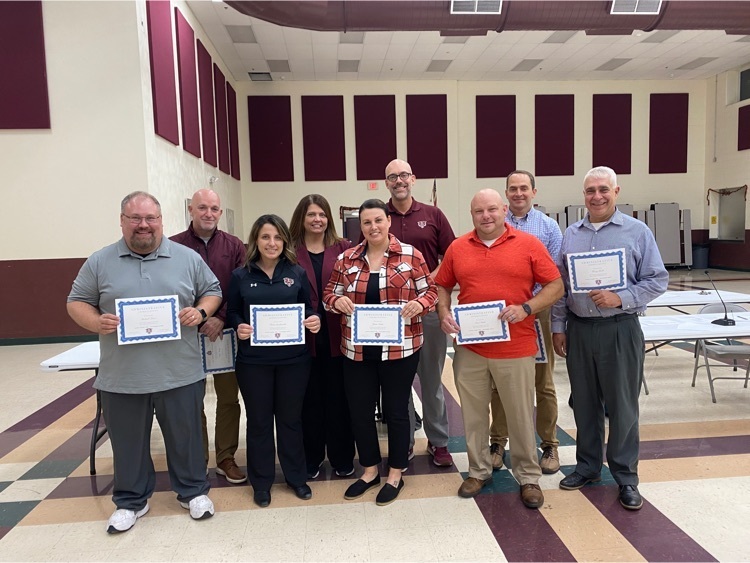 #Congratulations to our October 2022 Students of the Month! #Responsibility 👍👏😀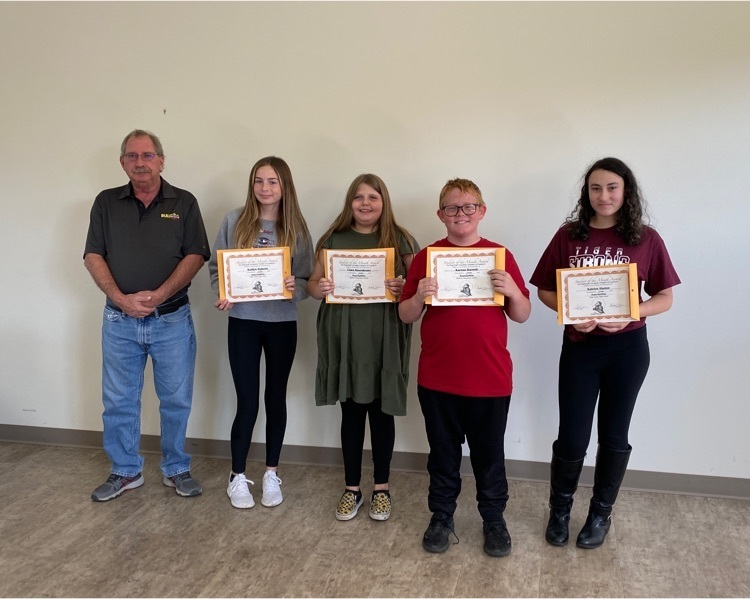 Haunted Hallway is October 26th from 5-8pm at DHS . Open to the public and geared toward our younger students. STUCO Fundraiser: $5.00 for adults and $1.00 for students/children.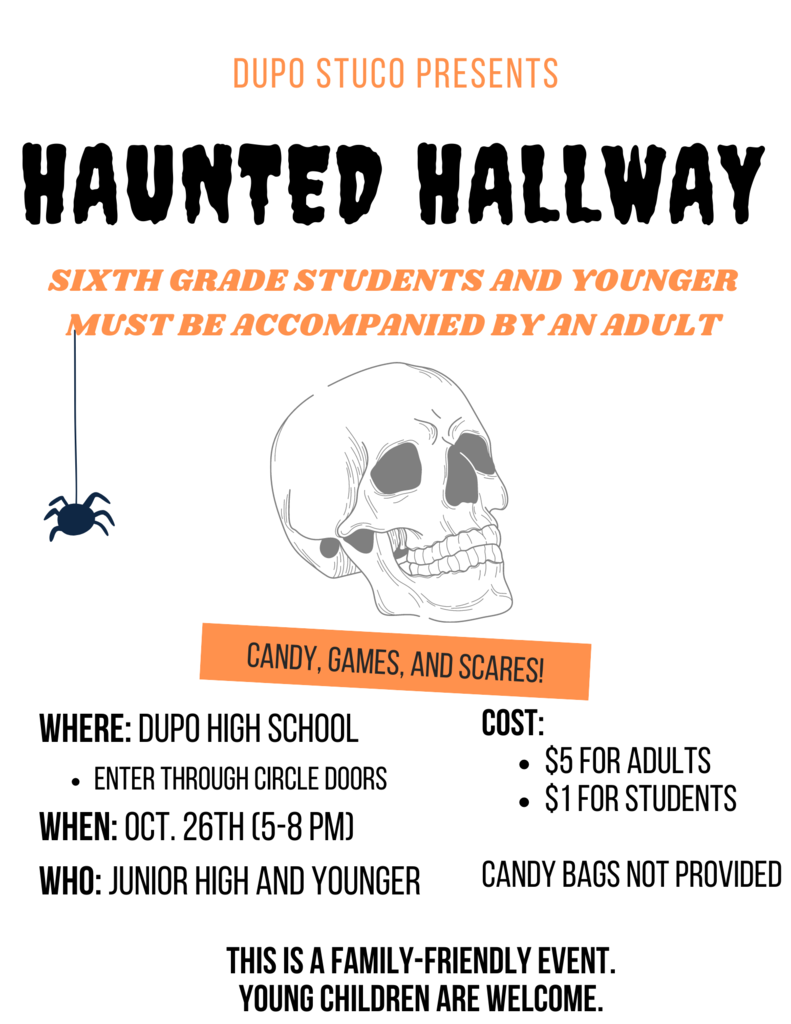 Thank you for your support in our recent coin drive for Gateway Pet Guardians sponsored by Bluffview Student Council. We were able to collect $1,000 for shelter pets! 🐶 🐱 #pets #charity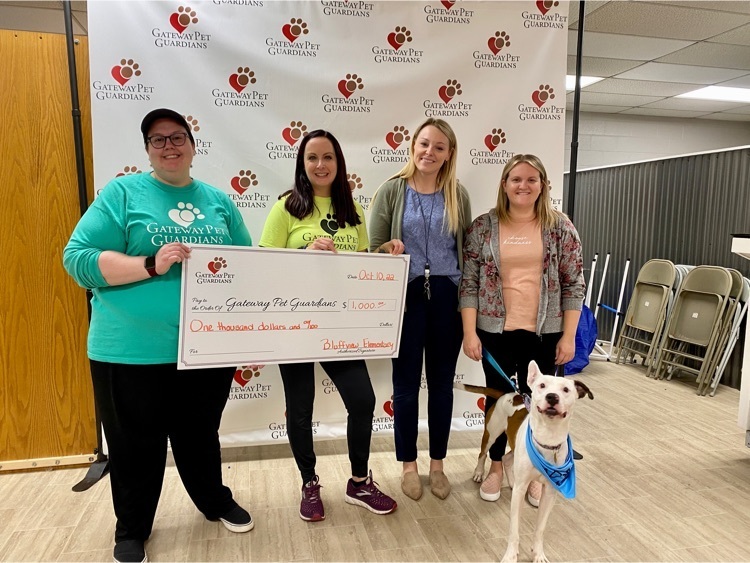 Community Event: Fall Festival!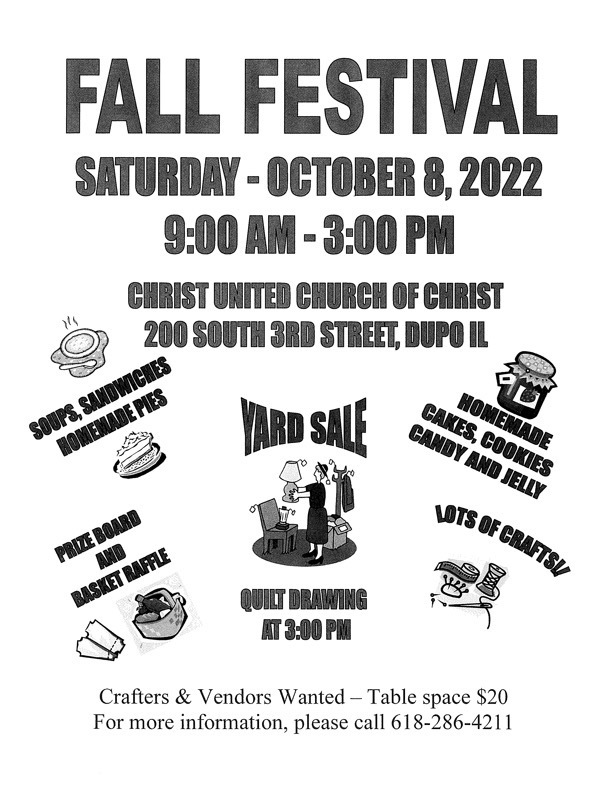 Keeping our schools drug free is a top priority. In conjunction with the Dupo Police Department, we had officers and canines from various locations conduct a search this morning. We are happy to report that there was no evidence of drugs identified. Thank you for your support in providing a safe and drug free learning environment for our students and staff.

​See the attached for information regarding our Flu and/or Omicron Booster Shot vaccine clinic. Be sure to bring your ID and insurance card. If you have any questions, please contact our school nurse, Kendra Koonce at: 618-286-3812 ext 4135 or
kkoonce@dupo196.org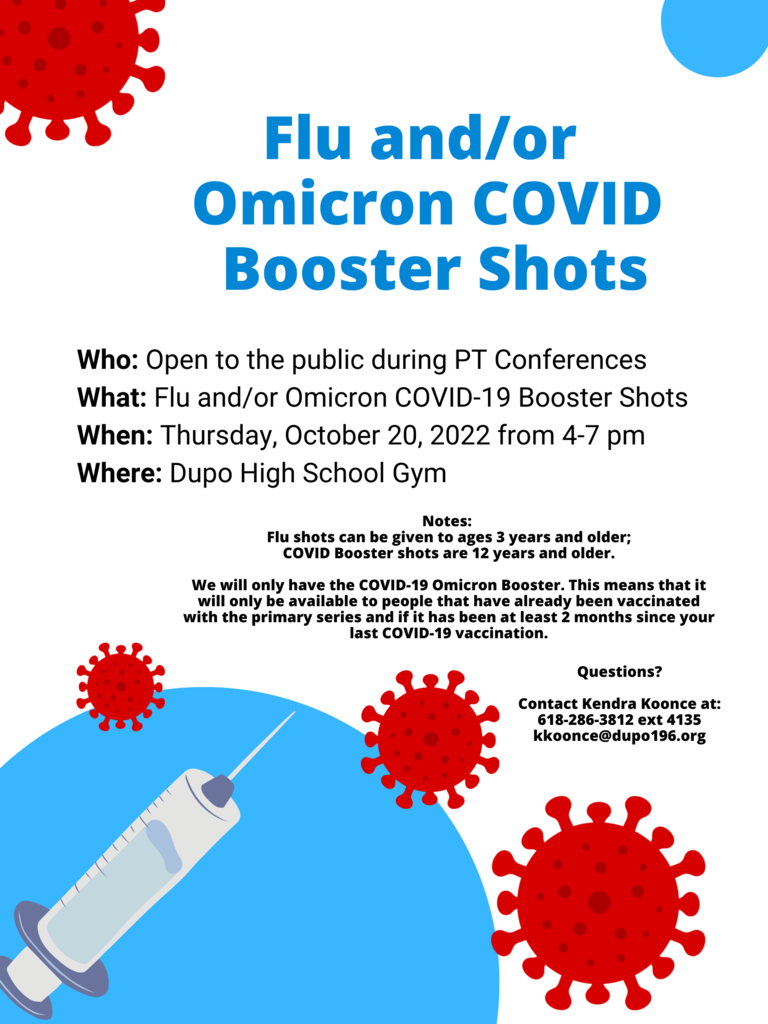 Parade step-off is at 5pm today. Parade Route: Leaving the high school parking lot–right on 5th, left on Godin, Left on 3rd street, at the end of 3rd street go on to Main Street, return to the high school on Trost.

Today, during Teacher's Institute, our staff was treated to some wisdom from the one and only, Gerry Brooks! #education #DupoTigerPride #ProfessionalDevelopment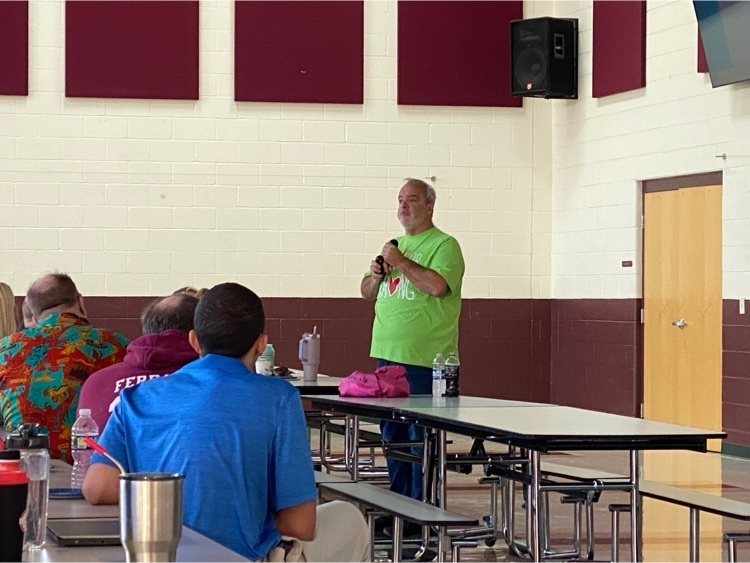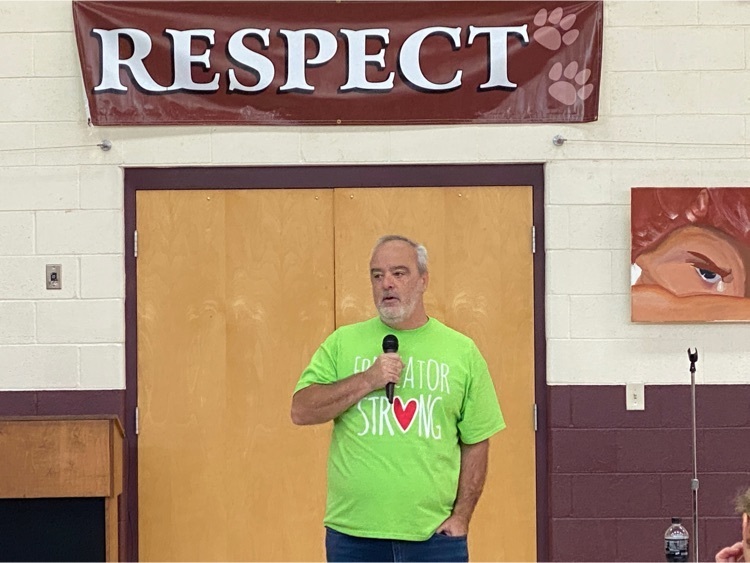 Reminder: There is no school on Monday, Sept. 26th due to Teacher's Institute.

Tacos are coming... #Tacos #BookFair #Education

Progress Reports are ready! K-1 will be receiving hard copies. Grades 2-12 simply check on TeacherEase (You can request a hard copy from the office). Questions? - Check with your child's teachers. Have a great weekend!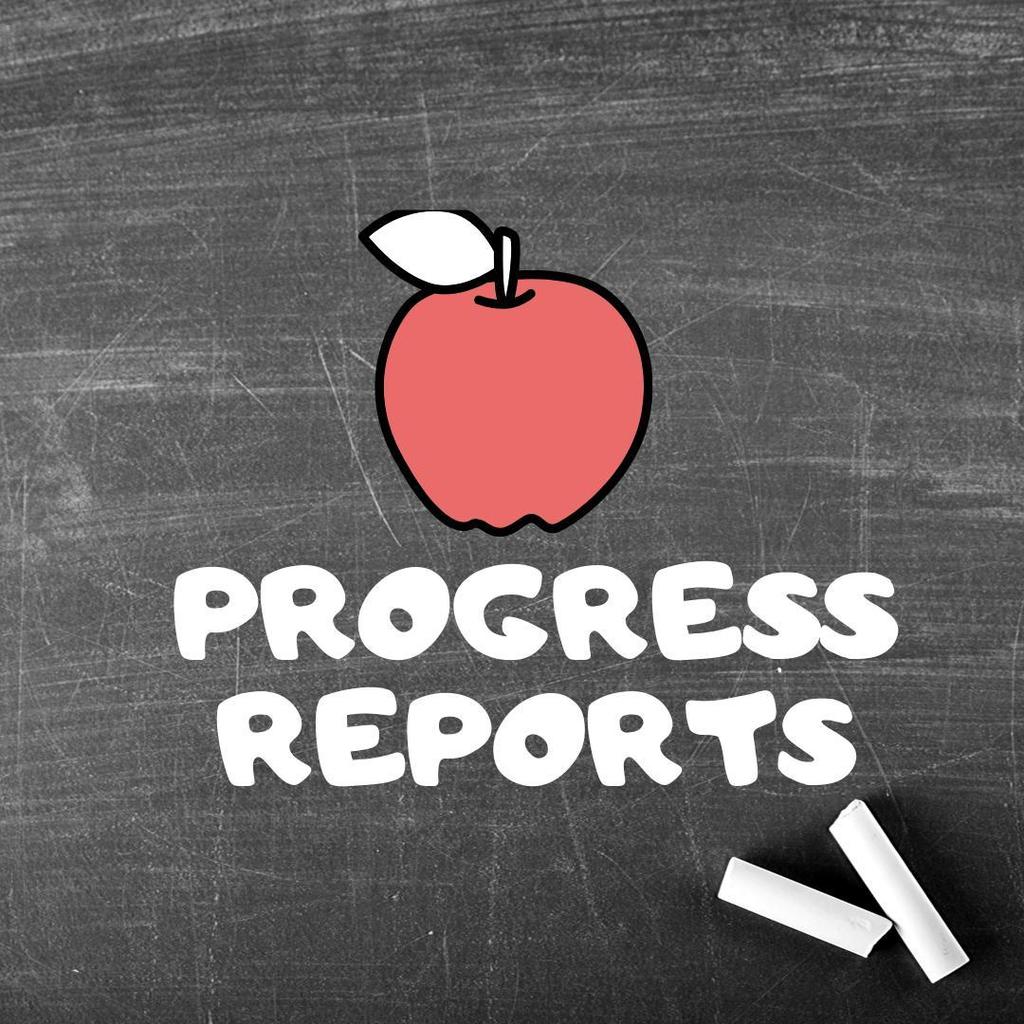 #Congratulations Students of the Month for September 2022; Lillian Putnam, Kayden Winchell, Makenna Chester, and Page Mushaney! #education #goodjob 👏😀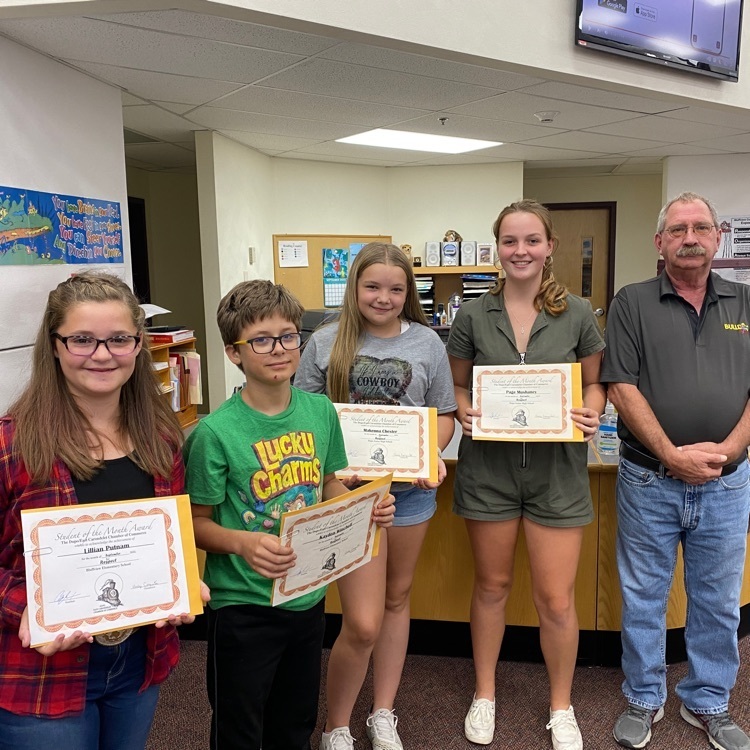 Check out these upcoming activities at the Daugherty Public Library!